Nassau County Personal Injury Lawyer
Do you need legal help now?

Nassau County Personal Injury Lawyer
With Injury Law Offices in Fernandina Beach, FL and Jacksonville, FL
Excellent attorney!
Paul won my case! When I first spoke to Mr. Boone regarding my dispute, I asked him if I had a winnable case. He said any attorney that tells you they can win your case is not telling you the truth: get a new attorney if they tell you this. Mr Boone is honest and forthright. He is very detailed and methodical in the court room and I felt very confident with him by my side. I would recommend him to anyone who needs an honest and very competent attorney.
Excellent Representation
Mr. Boone provided excellent consultation and representation for me in an ongoing accident case I was involved in last year.
Mr. Boone put my mind at ease by providing clear and explicit examples of my situation; and his willingness to represent me eased my mind even more. I highly recommend Mr. Boone to anyone who is looking for a knowledgeable and competent attorney.
Excellent attorney
Paul, handled a internet fraud case for me. He was diligent, sympathetic, and incredibly sharp. He turned a horrendous situation into something that we could live through.
Working with the Law Office of Attorney Paul S. Boone

My family and I worked with Attorney Boone beginning in 2015. Our 85year old mother was a resident in a local nursing home. A facility that we were pleased with as we thought that Mom was receiving good care. However, Mom fell while at the facility and broke her hip. It was over 24hrs before we were notified of the fall and Mom's resulting injuries. Our Mom died the following morning. We met with Attorney Boone. He listened to our concerns and he felt that he would be able to assist our family with presenting a case against the nursing facility. He worked closely with my family and he was successful in bringing the case to an amicable resolution. My family and I highly recommend the services of Attorney Paul S. Boone.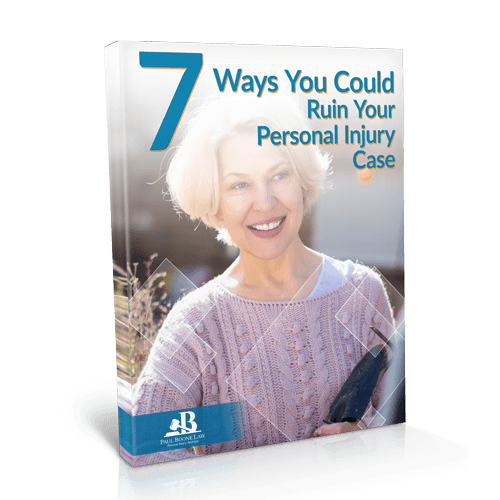 7 Ways You Could Ruin Your Personal Injury Case
Enter your information to download our free guide today. Learn what you should and shouldn't be doing during your personal injury claim.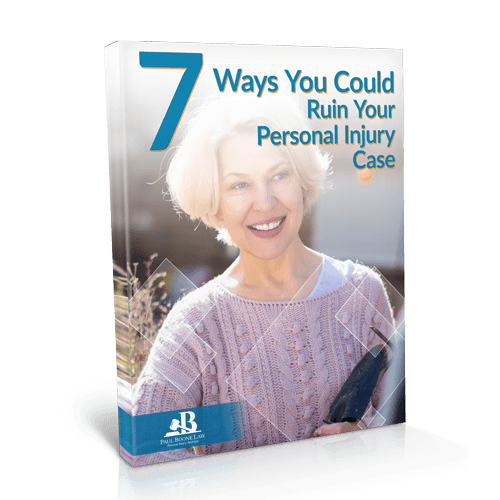 7 Ways You Could Ruin Your Personal Injury Case
Enter your information to download our free guide today. Learn what you should and shouldn't be doing during your personal injury claim.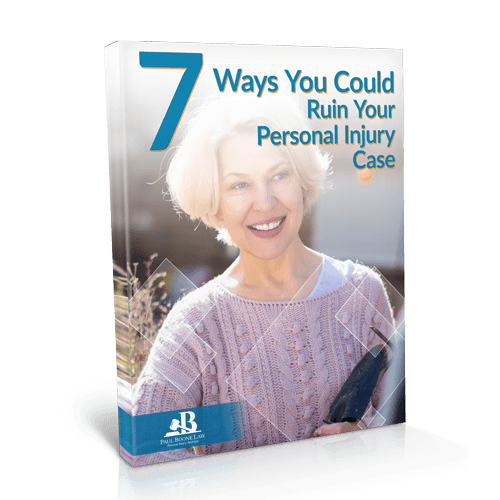 7 Ways You Could Ruin Your Personal Injury Case
Enter your information to download our free guide today. Learn what you should and shouldn't be doing during your personal injury claim.
Nassau County Personal Injury Lawyer
With Injury Law Offices in Fernandina Beach, FL and Jacksonville, FL
It's a tragedy when a person suffers a serious injury. When the accident or circumstance that caused the injury could have been prevented, it's all the more devastating.
If you're reading this, you may have been injured in an accident or under negligent circumstances. You may be in pain. You have likely lost income from being unable to work. You're probably under financial pressure to pay bills, even though you've lost wages. You're also likely very stressed out by trying to find someone trustworthy and experienced to help you with a personal injury claim.
We are here to help with free legal advice. Call our Nassau County personal injury lawyers today.
Don't worry about paying us upfront to get the answers you need. Feel free to contact us as soon as you are able, and set up a free legal consultation.
The information below will teach you the basics about your personal injury claim. We'll show you some of the common mistakes we see people make in their personal injury cases in Nassau County. Then we'll use a story to illustrate additional, important points that will help you better understand your claim. Please read it to the end.
Common Personal Injury Claim Mistakes
There are several common mistakes you can avoid simply by being aware of them. Please take a minute to go through them all to prevent yourself from unintentionally damaging your claim.
Not Getting Medical Attention
It's common for people to experience a rush of adrenaline and cortisol after a traumatic accident. These stress hormones have a dampening effect on a person's ability to register pain. As a result, it's possible — and even common — to not realize the extent of one's injuries after an accident.
This is why it's critical to seek medical attention after an accident. In addition to protecting your physical wellbeing, it also protects the value of your personal injury claim.
Going to the doctor creates a record of your injuries, as well as a timeline that will coincide with the accident or incident that caused it. This information is an important part of your personal injury case evidence, as without it, your claim will be significantly weaker and may not hold up at all.
Not Following Doctor's Orders After Your Injury
After being treated for your injuries by medical professionals, it's crucial to follow through with the doctor's treatment plan for your recovery. This is your chance to participate in getting back to normal. It's also vital to the strength of your case.
If, for instance, you fail to complete a course of medication or are a "no-show" to some of your physical therapy appointments, the insurance company responsible for paying your claim can make the argument that your condition is, at least partially, your fault. This lowers the value of any compensation you have the right to.
Don't help the insurance company slide out of their responsibility. Be sure to follow your doctor's treatment plan for your recovery.
Giving the Insurance Provider a Recorded Statement
It's standard practice for the insurance company to ask for a recorded statement after your accident. It's also important you don't agree to give one.
No matter how at ease the insurance adjuster makes you feel when they call, please know that the purpose of a recorded statement is to provide them with something — anything— that can be used in their favor to lower the value of your claim.
Insurance adjusters are trained to get you talking. If you say something they can use against your claim, chances are, you won't even be aware of it. You may also not be aware that you are not obligated to answer that call or speak with the insurance provider. In fact, this is an excellent task to delegate to your personal injury attorney.
Letting Too Much Time Pass Before Calling a Lawyer
Many people go by the statute of limitations in their state when deciding when to call a lawyer. This is a mistake, especially if you tend to procrastinate.
Even if you think you have plenty of time, remember that evidence will be strongest and easiest to find right after your injury. This includes witness statements.
If you are lucky enough to have witnesses, it's important to get their testimony before their memory of what happened gets fuzzy or their contact information changes.
Choosing the Wrong Lawyer
Choosing the wrong lawyer is a mistake that can destroy your chances for compensation. Lawyers, like doctors, have specialties. Some lawyers specialize in estate planning. Some handle divorce and family law. It's critical to the outcome of your case to hire a trial attorney experienced in personal injury law who has handled cases like yours.
The majority of personal injury cases will settle out of court. If yours doesn't, however, it's imperative that your attorney is skilled in successfully taking cases like yours before a jury.
In addition, insurance companies often know who the experienced trial attorneys are in their area. This is another way that hiring a skilled trial attorney can work in your favor, as it can motivate the insurance provider to avoid trial, bringing them to the negotiating table.
Nassau County Personal Injury Client Story
This story is meant to give you an overview of personal injury claims. Names and details have been changed to protect the privacy of our clients. The information's value remains, however, so please read on to the end. You'll learn a lot about the claims process and we hope you'll get answers to a few of your questions along the way. When you're finished, please take advantage of our offer for free legal advice about your specific case.
A few years back in July, 52-year-old Will Foster surprised his wife Elaine at work to celebrate her 50th birthday.
Elaine was lost in a manuscript when he walked up to her desk, hiding his face behind an enormous bouquet of red roses.
"I'll be right with you," Elaine said, not looking up as she marked her place in the manuscript.
Will giggled, and she snapped her head up to see him peeking through the roses. They left, still giggling, as she tried to get him to tell her where they were going.
"It's a surprise! You'll find out when we get there. And you better have left your manuscripts at the office. This is going to be a long weekend of relaxation."
"Surprisingly I didn't bring anything! But I did leave everything with Mary, just in case our deadline shifts again." Elaine explained.
Will smiled. "Sounds like I owe Mary a beer…or a gluten-free lemonade, or whatever those things are she likes."
They drove across town, crossing the bridge to Amelia Island, their favorite destination. In the past four years, they'd visited four of the bed and breakfasts on the island, so Elaine had a pretty good idea that's where they were headed.
What Elaine didn't yet know was that Will had a bigger surprise. He'd decided to go with early retirement after all. He discovered the owner of a small bed and breakfast on the island was looking to sell, and was willing to transfer ownership of the property to Will and Elaine over the next two years, so long as the couple could move in by the end of the summer to take on the property's management as soon as possible. It would be a perfect way to occupy Will's retirement.
Elaine's career as a senior book editor and freelance gig as a literary agent allowed her to work from anywhere. Will was confident she'd be thrilled by the plan and thought they'd be dragging moving boxes out of the garage as soon as they got home.
They'd just come off the bridge, cruising at 45 mph, when a five-ton flatbed truck pulled an illegal U-turn directly into their path.
Will hit the brakes and pulled to the right, but there was no time. The car hit the truck bed and flipped.
Will and Elaine spent the next week in the hospital. Elaine's collarbone and left humerus, radius, and tibia were broken. She also had two cracked ribs. Will suffered a concussion and a fractured pelvis.
After they were discharged, the couple's son James brought them into his Jacksonville home to recover. The day after they settled in, we met them there for a free consultation.
James had told us when he set up the appointment that his parents had three primary concerns. They wanted to know how much it would cost to hire us, how much their case may be worth, and how long it could take.
How Much Does It Cost to Hire a Personal Injury Lawyer?
James brought us to his parents' room, where we found Will propped up in bed and Elaine in a wheelchair beside him. It was clear the family was close. James's wife, Emma, brought in a pitcher of lemonade. We could hear children laughing in the yard through the open window.
"Is this lemonade gluten-free?" Will asked with a twinkle in his eye, looking at Elaine.
"Stop it, Will," Elaine chuckled, "It hurts when I laugh. Besides, my gluten-free assistant can run circles around you, she's so healthy."
"Especially today," Will groaned, asking, "So how much would it cost to hire you? Do we need a gold brick or something to get started?"
We let the couple know that there was no upfront cost to hiring us.
"We work on a contingency basis, so we'll cover all the expenses of the case as we go. At the end, we'll only get paid if we resolve your case successfully."
What Is My Case Worth?
Satisfied with this answer, Elaine asked, "What could our case be worth?"
We told the couple this could not be accurately calculated so early in the case.
"First, we'd need to conduct an accident investigation. We'd also need an accurate assessment of your damages.
"An investigation could begin right away. It would involve witness testimony and evidence from the scene. We'd also get all the paperwork started as if your case were going to trial," the lawyer said.
"Did Jimmy tell you we have an eye witness? A woman was at the cross street, not 30 yards away, waiting to pull onto the road. She saw everything," Will said.
"That's going to be extremely helpful, Will. What you both need to focus on now is your recovery. To figure out the value of your case, we need you both to reach maximum medical improvement.
"This means you're 'back to normal,' or you're as recovered as you can be from your injuries. It also means there are no more surgeries on the horizon. Then we will have a clear picture of what any future medical care is likely to entail.
"At that point, we'll know your damages and can tell you how much your case is worth."
Will and Elaine nodded.
How Long Does a Personal Injury Case Take?
 "How long does a case like this take?" Will asked.
"That too is difficult to say without more information.
"As mentioned, we'll need to know your damages so we can send a demand letter to the insurance company. So, the first thing that will influence the timeline of your case is how quickly you both reach maximum medical improvement.
"To that end, it's important that you both follow your doctors' treatment plans for your recovery. This will help you reach maximum improvement as quickly as possible. It will also protect the value of your claim, as it will show that you are not responsible for any of the injury you've suffered.
"The next hurdle to your case timeline will be whether or not the insurance provider plans to be reasonable. If they work with us on a satisfactory resolution, your case will proceed smoothly. If not, we'll take them to court. You can see how the insurance provider's response could influence the timeline.
"It will help that the insurance company knows who they will be up against if we bring suit. It's likely to make them more willing to negotiate, as they won't want to come up against us in court."
Elaine and Will were happy with the information we gave them and retained us to handle their case. Today, we can happily say they received nine times the amount initially offered by the insurance company and we're able to fulfill their dream of running the bed and breakfast.
Call Our Nassau County Personal Injury Lawyer Today
We hope this information has answered some of your questions about your personal injury claim. As every case is unique, we encourage you to contact us to set up a free consultation to discuss your particular circumstances. Don't take on the burden of a personal injury case alone. Call today for free injury claim advice.
Frequently Asked Personal Injury Questions
Who is responsible for paying my medical bills after a personal injury accident?
Ironically, the first line of responsibility is you. In an automobile accident case, you carry what is known as PIP, Personal Injury Protection. You may know it as no-fault insurance. You're required to have it in the state of Florida. The reason you have it is if you get hurt in an automobile accident, that is what's paid first. That is the law in Florida. Next, if you have health insurance, it will pick up what your PIP does not pay.
Ultimately, if we make a claim and we recover, part of that claim is medical bills and, although typically it's one check the insurance company writes, it covers all your damages, including the medical bills. There are other complexities to that. The first line of payment is your own insurance.
If you've been hurt in an automobile accident or other accidents, sit down and talk with us. We can go into all the insurance issues. Typically, this is a first-time event for many clients. They do not know how it works. Working through the maze and myriad of insurance responsibilities and layers of insurance is a mystery to them. We can unravel that mystery. If you've been hurt in Duval County, Nassau County, give us a call. We'll sit down and go over all of that the very first so that you have a full understanding of how to handle your medical bills and other aspects of the case.
Is there a minimum amount of medical bills needed to pursue a personal injury case?
People often come to us with details about their cases and ask whether they have a case. One of the questions that they ask is whether there is a minimum amount or dollar amount of medical bills needed before they can make a claim. There's no real minimum, although medical bills drive values of cases in many instances. If you have no treatment, you have no medical bills at all, it's hard to say that you're hurt so that we can make a claim. The larger the medical bills, the more the insurance company will believe that the case has greater merit, depending on other factors. Again, these are details that we would love to discuss with you if you've been hurt in Duval County, Nassau County, Fernandina Beach, Yulee, or Jacksonville. Give us a call. We'll sit down and talk about your case.
What are the steps to filing a personal injury lawsuit?
One of the questions that clients ask when they come into the office is, "How do we get started? What are the steps in starting my case?" It differs from case to case. Initially, you come see the lawyer and we sit down and we talk about the case and find out what kind of case it is. Some cases, we will go to the courthouse immediately and file what is called a complaint. That starts your complaint in the court system. Other cases require us to put defendants on formal notice before we're able to actually file a lawsuit against them. Come see a lawyer first. Let's gather up all the facts. Let's gather the evidence, which is very important. Then we know what we have, we know the direction that we need to take your case, depending on what kind it is. Here in northeast Florida, Nassau County, or Duval County, that's how it's done. If you live in those areas and you've been hurt, give us a call. We'll be happy to sit down with you, talk to you in more detail about your case, and figure out what next steps are.
How long does it take to settle a personal injury case?
One of the very first questions that most clients ask is how long their case will last. That question, as important as it is, is rather hard to answer directly with an exact timeframe. It could be as quickly as six months. It could be several years. It depends upon your case. In Nassau County, we have lots of logging truck accidents and those cases can be complex. They can last a couple of years. If we can get into a situation where we can approach the insurance company early on, it could be six to eight to nine months. You must be prepared to go the long haul. This is not going to be over in a couple of weeks. Again, every case is a little bit different. Call us. Make an appointment. We'll sit down together or through Zoom and we'll go over it and figure out how best to help you.
Can I recover for emotional damages in my personal injury case?
Clients ask often what they can recover in their cases. Typically, the clients know the medical bills and lost wages are recoverable but many times they'll ask if emotional loss is part of the claim that they can recover for. The answer is absolutely yes. Indeed, that sometimes is the major point of recovery where you have an emotional loss like the loss of a spouse, the loss of a child. Those are particularly tragic cases. Emotional loss is the major component of it. Yes, you can recover emotional damages. In northeast Florida, Jacksonville, Fernandina Beach, or the Nassau County area, we handle these kinds of cases. Call us today. We'd be happy to sit down with you and talk about your case and how we best can approach it.
How will a pre-existing condition affect my personal injury case?
Nassau County is an aging community. Many of our clients have what is known as a pre-existing condition, something that was there before the accident or injury for which they're coming to see us has occurred. They're concerned about how that's going to impact their case. Depending upon where on your body that pre-existing condition is, there will be an effect. For example, if you have a low back injury from years ago and you get involved in a rear end collision and you injure that low back area again, the insurance company is going to say it all came from before the accident. We have means and measures to deal with that.
It is an issue in your case, and to be quite honest with you, it will lower the settlement value of your case because the defense has the ability to point to something unrelated to the accident to say that's where your hurt is. We get records. We educate ourselves on your medical condition so that we can approach your case in the best way. One of the things that we do not do is oversell your case. We get educated. We will know you as well as you know you. That is important. Don't be dismayed that you have a pre-existing condition. Call us. We'll approach it in a way that suits your case the best.
Is there any way to avoid trial for my personal injury case?
People generally don't like to go to trial. It's a foreign experience. It's filled with tension and pressure for them. We, as lawyers, have to be sensitive to that, particularly those of us who have tried many cases. We sometimes overlook the pressure points that clients experience in the courtroom. You can avoid that by settling your case before trial. The offers that insurance companies will make if your case has merit will vary from insurance company to insurance company. We will give you recommendations about what we think you should do. Trying cases in Nassau County and Duval County, we are pretty familiar with the insurance carriers and we know how they approach these issues. Whether or not we can avoid it will depend upon you as the client. We will give you recommendation about what we think you should do but the bottom-line decision is yours. You control it in terms of whether you try your case or we avoid it by settling the case. If you've been hurt in any form of accident in Duval County, Nassau County, or northeast Florida, feel free to call. We'll sit down and go over the ins and outs of your case.
Should I accept the first settlement offer for my personal injury case?
When we meet with clients, we talk about how the case is going to go. Settlement comes up every single time. Many times, a client will ask if they should accept the insurance company's first settlement offer. Typically, we say no because insurance companies are like most companies. They try to get away with paying as little as they can. If you've been around like we have for 38 years, you know that they will not come in with their best offer initially. The short answer is no. If your case has significant problems, that could influence that answer, but generally speaking, no. We litigate the cases. We get their best dollar on the table and then sit down with the client to discuss whether we will accept that offer and resolve the case at that point. If you've been hurt or injured in the Nassau County area, Duval County area, give us a call. We'll sit down. We'll talk about your case and see how best we can help you.
Could my personal injury case settle before going to court?
People ask often if it is possible that a case will settle before going to court. The statistics show that most cases do. Even with lawyers like us who have tried a lot of cases, the majority of our cases do settle before court. The reason for that is we prepare. We know our cases. The other side of the insurance company knows that we know our case. If they know our track record, they know that we're willing to trial the case.
When that happens, if you have seasoned lawyers on both sides and seasoned insurance adjustors on the other side, then typically we will find ourselves in the same range of settlement value. In those cases, more likely than not, we will be able to settle your case but it will be done in a reasonable manner in a range that we think is reasonable. That only comes with experience. We have been practicing for decades and have been inside a courtroom. We know what a courtroom can do for you and we have a healthy respect for the courtroom. Give us a call if you've been hurt Nassau County or Duval County. We'll be able to sit down with you and go over your case in detail.
Will my personal injury case go to trial?
One of the questions that we get asked almost every time is whether or not a case will go to court. A lot of people are fearful of that. Quite frankly, most people would like to have their case settled before that. We don't make promises to our clients about whether cases will go to court or won't. It depends upon the fact of your case. We will make a recommendation about whether or not the insurance company is dealing with us fairly in settlement offers. If we don't think they're dealing fairly with us and we can do better at trial, we will tell you that. We'll give you our recommendation that we should try the case. The bottom-line decision is yours, but it will be made in conjunction with detailed conversations that we have along the way. If you've been hurt or injured in Nassau County, call us. We'll go over the details of your case.
What is the role of expert witnesses in my personal injury case?
As we get into cases, we begin talking about hiring witnesses to help with the case. These people are called expert witnesses. They are specially hired for the case, with the exception of your treating doctors, who are also known as expert witnesses. Their role is to provide professional opinions about certain complex areas of the case that are beyond the understanding of the average juror. We routinely hire experts in our cases to help in those areas that are needed. We don't go overboard in hiring experts. We hire them as we need them, but if we need them, we go get them. If you have any questions about your case, expert witnesses or otherwise, call us. We'll sit down an we'll talk about your case.
How do I choose the right personal injury attorney?
We had someone ask recently how to go about picking a good personal injury lawyer here in Nassau County and the Amelia Island area. This is what we told them— You want someone who has experience and someone who has been inside of a courtroom and knows what a courtroom looks like and has tried cases similar to the one that you have. That is the number one consideration. You also want someone who's familiar with the area who's willing to go out to the areas where the injury or accident occurred and can translate that into your claim. That is another important consideration in picking a personal injury lawyer. If you would like to discuss this further, call us. We'd be happy to go through the ins and outs of your case in much more detail.
Client Reviews
"Paul, handled a internet fraud case for me. He was diligent, sympathetic, and incredibly sharp. He turned a horrendous situation into something that we could live through."
– Marshall
Read More Reviews